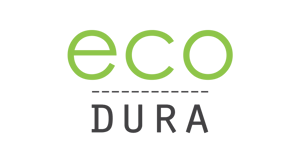 ecoDURA High Pressure Laminate (HPL) is especially suited for exterior durable signage, heritage interpretation panels, wayfinding signs or cladding. The product comes with a 10 year warranty for UV and exterior weather conditions.
Manufactured using high pressure and temperatures, layers of phenolic resin impregnated kraft paper provide the core to the the finished product. Using PEFC sourced pulp and solvent free inks, the environmental footprint means it scores significantly over ACM products being 100% recyclable.
The printed image is of outstanding full-colour digital quality, set within the thermoset resin of the ecoDURA panel, fused within melamine and UV protective layers. The option can be taken to have prints to both sides of the sign panel.
The resin impregnation and thermoforming ensures impermeability to water and the outside elements. ecoDURA panels are unaffected by moisture nor susceptible to weathering, rot or mould growth. There will be no ingress through the edges and can be used in wet areas or even underwater.
Protected from the atmospheric elements, the image is set sub-surface that prevents any attempted graffiti. Unaffected by strong strong organic solvents, any defacement can generally be removed commencing with white spirits, alcohol, or acetone. The panels are not 'open pore', so promote virtually self cleaning.
Furthermore, the panels are fire rated, tested to BS 476-6:1989+A1:2009 (Class O) and BS 476-7 :1997 (Class 1) that promotes their use in cladding applications.
Supported with a 10 year exterior warranty and certifications when tested to BSEN 438 (2016) Parts 1 & 2 and EN ISO 4892 (2016) Parts 1 & 2 Accelerated Ageing
10 Year Warranty for UV & Weathering

Eco-Friendly

Impact & Scratch resistant

Moisture Resistant

Fire Retardant

Easy Clean

Can be CNC cut to your requirements

Recyclable - made from sustainable sources

Two sided print options

Anti-bacterial properties

Graffiti Resistant
UV Resistant

Water Resistant

Recyclable

Marker Resistant

Graffiti Resistant

Heat Resistant

Fire Resistant

Durability

Burn Resistant

Resistant to Acids, Alkalis & Sea Spray
3, 6, 10, 13 & 15mm thicknesses
Max size 2.7m x 1.2m
CNC Custom Cutting to .dxf or .dwg files
Can be supplied with chamfered edges
Can be supplied with pre-drilled holes or on installation.
Please note that the diameter must be 1 mm larger than the screw diameter to allow for the ecoDURA material expansion
Options for inserts in 10 & 13mm grades.
M5 for 10 mm thickness & M6 for 13 mm thickness.
Can be supplied; chamfered, milled or routed in bespoke shapes
All packaging is tailor made according to the panel dimensions.
Panels are QC checked/photographed and leave the factory in prime condition.
On receipt the outer packaging should be inspected for any visible damage and if deemed damaged should be photographed in the presence of the carrier and 'signed for same'.
If damaged, the contents should be opened immediately to assess whether any product damage has occurred as if not then no recourse can be brought against the carrier or agents.
If storing for a period before installation, the protective film on the print face should be removed immediately as this allows each face to 'breathe' and maintain atmospheric equilibrium.
If the film is left on this can lead to 'warping' as the two sides may have a differential expansion due to the inhibiting protective layer.
The panels should be stored flat and level, clear of the ground and under cover to prevent distortion.
When handling panels, care should be taken to avoid damage to the surface or edges. Panels should be lifted, NOT slid, across the lower panels.
The panels are generally self-cleaning: dirt does not adhere to the surface and rain will wash away any remaining dust.
In the instance of excessive soiling, the surface may be cleaned with hot/warm water and household detergent mixture, applied with a suitable cleaning pad or sponge.
Alternatively, the panels can be pressure-washed with warm or cold water and mild detergents.
ecoDURA panels are inherently graffiti resistant and it is possible to clean the any defacement with products such as; white spirits, alcohol, or acetone using a dry, non-abrasive cloth (microfibre type).
Installation:
The product is designed to be installed according to guidelines to account of any wind loading that should be calculated in accordance with BS EN 1991-1-4:2005 + Amendment 1:2010.
This is part of the Eurocode series and the European standard for wind actions on structures.
It outlines how to measure the impact of natural winds on loaded areas of buildings under construction
Screws or hidden fixings such as brass inserts should be used in preference to adhesives or rigid steel inserts that can be affected by differential expansion.
The product consists of up to 70% of wooden fibres and therefore, as living material, behaves like wood and needs room to breathe and move.
Panels should be installed with an 'air gap' so the rear face is exposed to maintain the equilibrium.
Allowances must be made for thermal/moisture movement of the panel.