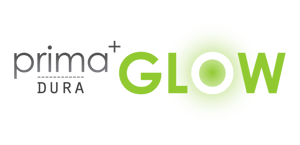 Coated + Printed Aluminium
With all the same benefits as our standard primaDURA……primaDURA GLOW product delivers durability and photoluminescent performance to the highest specification for residential, industrial and commercial signage or wayfinding applications. Additionally, the photoluminescent coating is third party accredited, tested for Lloyd's Register approval certification for both marine & offshore applications with respect to safety signs and egress route low level lighting.
primaDURA GLOW and associated photoluminescent Safety Way Guidance Systems (SWGS) has been increasingly sourced as local authorities seek to improve access and egress methods since the Grenfell Tower tragedy.
Correct egress signage allows residents, workers or members of the public to easily find their way out by the shortest route in the event of an emergency. It also allows other pertinent signage information to remain legible for longer in fire and/or smoky conditions to aid safe egress and evacuation by the Fire & Rescue Services.
Possibly something overlooked in the selection of Fire Signage is the 'Fire performance' of the sign itself and that's where primaDURA GLOW scores significantly over conventional rigid PVC, vinyl laminated Aluminium /ACM or Foamex.
primaDURA GLOW Class D photoluminescent is legible for longer in fire situations and meets an extensive range of international safety standards.
Maritime Solutions
When tested in accordance to Annex A of ISO 15370:2021 Low Location Lighting (LLL) on passenger ship – Arrangement and ISO 16069. PrimaDura Glow exceeds PSPA Class D with a photoluminescence of 282mcd/m2 at 10 minutes and 38 mcd/m2 at 60 minutes. In accordance with Annex D Table D.1 Width v luminance PrimaDura Glow LLL can be reduced in width from the required 75mm standard.
PrimaDura Glow LLL components are supply only, Technical Data Sheets of luminance and fire-retardance will be supplied for inclusion within the installations general arrangement.
Any installation should be checked that the normal lighting conditions are adequate for the charging of the photoluminescent and for testing in-situ requirements of Annex B of ISO 15370:2021 by the installer.
Certified performance and safety PSPA Class D according to DIN 67510 Pt 1

extremely bright afterglow for many hours to facilitate efficient egress & evacuation by The Fire & Rescue Service

ISO 15370 (International Standards Organization)

SOLAS Regulations & EU Marine Equipment Directive

DIN 67510 (German Industrial Standard)

IMO RES A. 752 (18) (International Maritime Organization)

ASTM 2072 (American Society for Testing and Materials)

JIS Z9100 (Japanese Industrial Standard)

Transport For London/London Underground Ltd; S1085: Issue A4: 2016 for Fire Safety Performance of Materials in Rail Stations and Tunnels Infrastructure.

Legible for longer in fire situations Reaction to Fire BS EN 13501-2 :2016 – complies with the requirements Classes B, dO,

Passes BS 476-6:1989+A1:2009 (Class O) and BS 476-7 :1997 (Class 1) for Surface Spread of Flame and Fire Propagation
Panels have been produced to the specification on the order acknowledgment, where by a gloss panel will read 70+ units gloss @ 85º and satin matt will read 5-10 units read on a gloss meter at 20º. During the Guarantee Period, surface gloss reduction shall be even without adversely affecting the uniform appearance.
Specification will be 70+ units for gloss finish @ 85º and satin/matt will read between 5-10 units read on a gloss meter at 20º measured according to BS EN ISO 2813:2014 - Paints and varnishes, determination of gloss value at 20º, 60º and 85º
Panels are produced in an industrial environment whereby an occasional fish-eye or blemish due to dust specs may form during the final coat process. This is the unavoidable risk of being an industrial process and these instances are rare and in the eventuality, the minor imperfections are not typically detectable upon first glance and won't affect the overall panel aesthetics for a standard viewer or indeed the panel warranty.
All primaDURA panels are QC checked and leave the factory in prime condition - on receipt the outer packaging should be inspected for any visible damage and if deemed damaged should be photographed in the presence of the carrier and 'signed for same'.

If damaged the contents should be opened immediately to assess whether any product damage has occurred as if not then no recourse can be brought against the carrier or agents.

If storing for a period before installation the panels should be stored flat and level, clear of the ground and under cover to prevent distortion.
When handling panels, care should be taken to avoid damage to the surface or edges. Panels should be lifted, NOT slid, across the lower panels.
The panels are generally self-cleaning: dirt does not adhere to the surface and rain will wash away any remaining dust.
However, in the case of excessive soiling, the surface may be cleaned with hot/warm water and household detergent mixture, applied with a suitable cleaning pad or sponge.
Alternatively, the panels can be pressure-washed with warm or cold water and mild detergents. primaDURA panels are inherently graffiti resistant and it is possible to clean the any defacement with many products such a, white spirits, alcohol, or acetone using a dry, non-abrasive cloth (microfibre type).
Each panel should be buffed up with a silicone polish prior to installation to remove any surface contaminates which also acts to finalise the hardness of the coating.

The product is designed to be installed according to guidelines to account of any wind loading that should be calculated in accordance with BS EN 1991-1-4:2005 + Amendment1:2010. This is part of the Eurocode series and the European standard for wind actions on structures. It outlines how to measure the impact of natural winds on loaded areas of buildings under construction