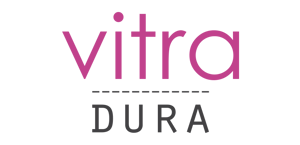 Coated + Printed Aluminium
vitraDURA™ is our architectural glass signage, available as direct or reverse printed using the latest in UV Flatbed print technology. From small, discrete signs and displays to a maximum A2, we can print your artwork on to the finest quality 6mm toughened safety glass.
For smaller signage, where the dimensions are too small to toughen, we can use 3mm or 5mm 'glass-look' acrylic.
Options include, polished edges with or without fixing holes. We can also back up with our Class D photoluminescent laminating film.That offers the most contemporary glow in the dark safety signage available.
vitraDURA™ is the ultimate in contemporary glass signage that can enhance product aesthetics in; architectural, commercial or tenanted properties, hotel & leisure, rail & healthcare sectors or environments. Using state of the art UV printers, we print to the highest specification toughened glass or glass-look acrylic. This means the ink is cured within seconds of being applied to the glass and is ready for further processing. For example, backed up with a PSPA approved Class D photoluminescent to produce incredibly bright photoluminescent safety and egress signage.
Our toughened glass has been produced by both thermal & chemically controlled treatments. The tempering process of intense heating and rapid cooling, creates a glass that is incredibly strong and durable. In the eventuality that it is broken, it breaks down into small granular pieces rather than large sharp shards of glass. Typically this grade is used in a variety of exacting applications, including; architectural glass doors, street furniture, vehicle windows, shower doors, tables, cookware, refrigerator trays, mobile screen protectors and underwater diving masks.
In addition, vitraDURA GLOW™ uses PSPA Class D photoluminescent technology according to DIN 67510 Pt 1.
This assures a safety way guidance egress system that assists in evacuation situations under emergency conditions.
Toughened glass

Reverse UV printed

Polished edges

Options for acrylic

Radius or square corners

Drilled for stand off fixings

PSPA Class D photoluminescent potential
UV Resistant

Water Resistant

Recyclable

Marker Resistant

Graffiti Resistant

Heat Resistant

Fire Resistant

Durability

Burn Resistant

Resistant to Acids, Alkalis & Sea Spray
Available in 4mm or 6mm toughened glass or acrylic with polished edges. With or without holes for stand off fixings