Coastal Paths & Beach Fronts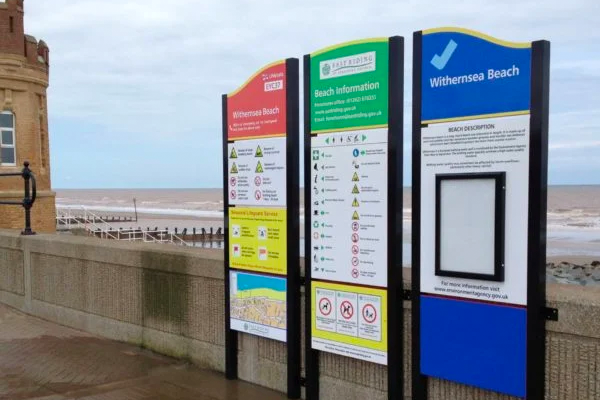 With 17,820 km of coastline, mainland Great Britain has around 20 coastal paths that require way markers or signage. In old money, that's over 11,000 miles of beach, bay, cliff tops and coves making up the wave-battered circumference of the country.
The most recent of coastal paths is 'The England Coast Path', a long-distance National Trail of some 2,795 miles. NovaDura signage and way markers proved ideal for the rigors of this environment.
Our coatings are specially developed to withstand extremes of temperature, UV, salt and sand spray. Consequently, we issue a 10 Year Warranty for our primaDURA, ecoDURA & reproDURA, according to:
EN ISO 2810:2014 for Corrosion/Weathering Resistance (primaDURA)
EN ISO 4892:2013 for Weathering Resistance (ecoDURA)
ASTM G154 500 Hrs. QUVB Accelerated Ageing for Gloss Retention/Colour Fastness
Salt Fog (ISO 7273 – 500 hours)
A standard range of display lecterns are available for displaying information. However, bespoke items can be priced & designed individually.
Hazard & Safety signage is always a consideration in what can be remote areas. Again the durability of NovaDura signage has made it a choice of the RNLI for beachfront and lifeboat stations.
Furthermore, our panels are well suited for warmer climes. NovaDura signage and way markers are made for Golf Courses in Florida and safety signage in the Saudi oil fields.
Service Temperature -40°C – +90°C,
high humidity tested according to BS 3900-F2:1973
Get a Quote Today
Contact us
For more information on our products and the industries we serve, please fill out the form and we will get back to you as soon as possible.